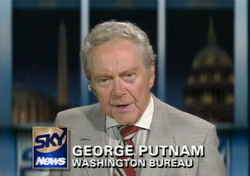 George Putnam (July 14, 1914 – September 12, 2008) was an American television news reporter and talk show host based in Los Angeles. He was known for his catchy phrases "That's the up-to-the-minute news, and up-to-the-minute that's all the news" at the end of his broadcast.
Putnam portrayed as himself in the 1996 film Independence Day in which he is first seen reporting on Sky News about the arrival of the City Destroyer entering over Russia. He then interviewed his guest panelist Dr. Libby Fields on his opinions about the alien visitors before interrupting Jerry Dunphy's broadcast to announce President Thomas Whitmore's press conference. Following the failure of Operation Welcome Wagon, Putnam solemnly concludes to the audience that the aliens do not come in peace.
External links
Edit
Community content is available under
CC-BY-SA
unless otherwise noted.